---

---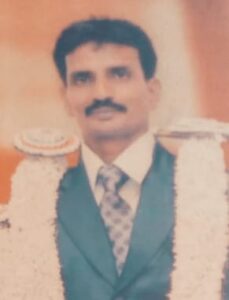 My name is Mr. Rajender from Kadapa, brother of Mrs. Mercy.  I came to know about Sister Kusuma from my sister that sister prayed for my brother-in-law and miraculously he got discharged from the hospital. After that, I myself got the symptoms of Covid19 and got depressed and frightened. Immediately my sister contacted Sister Kusuma by phone and requested to pray for me. The next day as I was going to the hospital I called sister Kusuma and prayed along with her who encouraged me and told me to have faith in Jesus Christ and told me that I will get negative reports so as not to worry. But I was a little fearful of the vomiting and went to the hospital. But thanks be to God. My medical report was negative for COVID 19. My heart is full of gratitude towards my Saviour Jesus Christ by whose wounds I am healed and healthy now. Glory to God and Special thanks to Sis.Kusuma.
---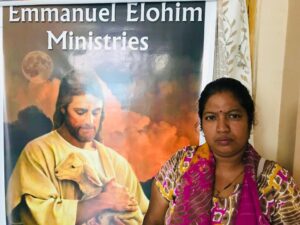 My name is Mrs. Catherine. A resident of Mahendrahills, Hyderabad. I will attend regularly Prayer meetings conducted Emmanuel Elohim Ministries at Lalapet, Hyderabad. I came to know about my friend, Mrs. Sunitha, who is suffering from financial problems in her family because her husband is not taking care of the family. Then I contacted her and brought her to the Prayer meeting for 2 weeks. Along with her, we all prayed for that family and continuously claimed the promises. God is so good by the week, she got a small job with which she could take care of her family. We were happy to see the tears of gratitude in her eyes. Abba, Father, never leaves us alone in our helplessness. Thank you, Lord Jesus Christ.
---
My name is Dominic. I am from Mahendra Hills, Hyderabad. I have a small business in videography. But because I am not a professional in that field I was trying to get an assistant in my work for a long time. But could not get anyone. At that time my wife, Mrs. Catherine used to attend weekly Prayer meetings conducted by Emmanuel Elohim Ministries at Lalapet, Secunderabad. So every time I used to remind her to pray for this intention. But this time, she told me to come personally and pray along with the Prayer group. Then I went and participated in the Prayer meeting. And by the grace of God, the next day only I got a phone call from a professional videographer and Photo Editor who joined my work. Thank you, Lord Jesus, for increasing my faith by this miracle. Nothing is impossible to our God.
---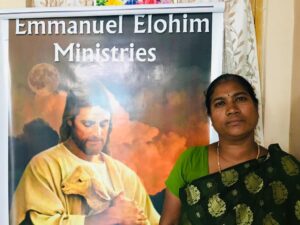 My name is Mrs. Violet w/o Mr. Michael. A resident of Hyderabad. I was suffering from so many physical ailments like diarrhea for 6 months, hernia, Hypertension, Diabetes, thyroid problems. With all these problems i went to many doctors and took treatment but no use. No relief. I became very weak and could not manage by myself at home. By seeing my condition, my sister, Catherine took me to her house and was taking care of me. One day after attending for investigations in a medical lab, from there we went directly to the Prayer meeting conducted Emmanuel Elohim Ministries at Lalapet. Then i poured out my sorrow, which i could not bear anymore in prayer. All of them also prayed for me in tears. With faith in Jesus Christ, I went home. Glory to God. After 3days again I went for investigations. God blessed me with all the normal reports. Jehovah Rapha healed me. Thank you, Jesus.
---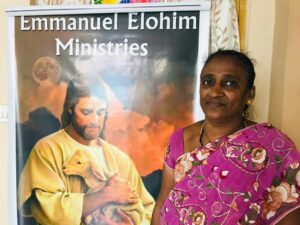 My name is Queeny. I am from Shanthi Nagar parish, Hyderabad. For my daughter, Mary Sabrina's wedding we could make all the arrangements but for dinner arrangements, no cash left out. Not even one rupee. Next day is the wedding day. Then with much pain and tension, i prayed with the EEM Team members for the Lord to open the door of the heavenly providence. Faithful God has seen our tears and Jehovah Jireh – Provided the amount through an unknown person, who called me by phone and adjusted the same by the same day evening. By the providence of God everything went on well. All Glory to God Almighty.
---
God hears our prayers, sees our tears, and adds years to our life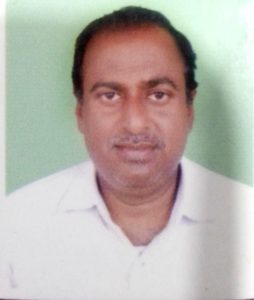 TR Theja Kumar Reddy from Kathwa. Once suddenly I got high temperature with chills. So I went to a local doctor for relief. After taking treatment for 3 days also no improvement and my condition was becoming worse. Then doctor advised me to go for better treatment because he could not treat me. So I was shifted to St. THERESA'S Hospital, Sanathnagar where I under went all types of investigations for 3 days. In the mean time my wife informed Sis. Kusuma about my condition and requested her to pray for my healing. At the end of the 3 rd day of investigations, I was diagnosed as a patient with swine flu. We were terrified with that news and immediately I was shifted to Apollo Hospital, Banjara hills. My wife started calling Sis. Kusuma for prayer twice a day regularly. She consoled us and comforted us with the Word of God. I too repented for all my sins from my childhood. God is so merciful towards me and my family. Within 3 days I was shifted from critical care unit to normal ward and with in 15 days I was discharged from the hospital. All glory to living God who sees our tears and lengthen our life span.
---
GOD HAS DONE MARVELOUS THINGS
My name is Kasthuri residing at Erragadda – Hyderabad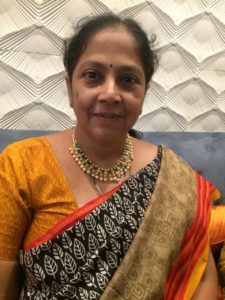 Our family was looking out for the right match to my daughter. I was very much scared about the marriage and its needs. Regularly attend the prayer meeting conducted by Emmanuel Elohim Ministry at St.Jude's school Erragadda. I requested Sis. Kusuma to pray for my daughter's marriage and for the God's blessing. She earnestly prayed for my daughter's marriage and God's chosen person. According to the prayers God blessed my daughter with good life partner. The Lord graciously enabled us to conduct my daughter's wedding on 27th December 2018 in a grand manner. All praise, glory and honor belong to Jesus alone. Amen.
---
THE REJECTED HAS BECOME THE CORNERSTONE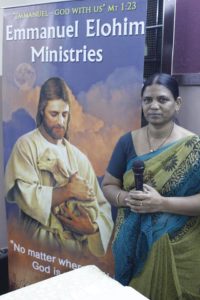 My name is Nakshatra, my son Sumanth is in search of a job. Every Saturday I attend prayer meeting organized by Emmanuel Elohim Ministries at St. Jude's School, Erragadda, Hyderabad. I prayed for my son to get a good job. In the following week he got a call to attend job interview. Forty of them were interviewed and among them only two of them were selected for final round. My son was among those two. My son could not clear final round and the managers disqualified him. My son was very much upset and informed me that he was disqualified. I told my son you will get this job and I am going to testify on Saturday. My son came out and was almost reaching the gate. Again the Managers called him back and interviewed him. They told we will see your performance for 20 days and finalize your job. Within 15 days of his joining, he got best performance award among all of them. All glory belongs to Jesus.
---
GOD WHO RECREATES IMPOSSIBLE THINGS TO POSSIBLE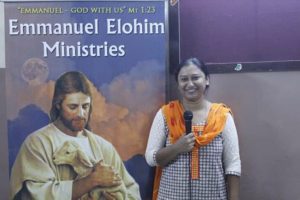 My name is Sreelatha, residing at Erragadda. My son Sujith Reddy is doing his engineering first year. Since two years he was writing Physics Exam, but he was a failure. I regularly attend prayer meeting conducted by Emmanuel Elohim Ministries on Saturday at St. Jude's School, Erragadda, Hyderabad. I have written my prayer request in prayer intention book before my son could appear for exam. Results came but failure. My son told he has written exam well. We believed that God will do a miracle because we have written in the prayer intention book. By faith we have gone for evaluation. Twice the results came failure. Finally we have gone for Challenge evaluation. Miraculously God blessed my son with good marks during challenge evaluation. God delays but never denies. All glory to Jesus.
---
The possible God is our Lord Jesus Christ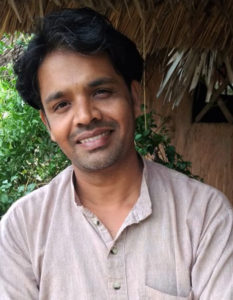 My name is Joshi Anumuthu from Pondicherry. Few years back I bought a land to start poultry farm with large amount of loan. I did not have any knowledge about land purchase or things to look before purchase. I blindly trusted the land brokers for everything and purchased. Later on I came to know that it's completely dry area and nothing can be done with it. I struggled so much to sale this land and even lost so much of money for the land. I was praying and waiting for God's mercy. After three years of gap one buyer came to buy the land, I was happy about the news but in verifying the documents the buyer found NOC has to be got from the children of the landowner, which I did not get at the time of purchase. When I approached the previous landowner for the NOC, they demanded 1 lakh rupees to sign, which I did not have. I pleaded with them but they did not agree to sign without money. I did not have any other choice than to bargain and give Rs.50000/- for their sign. I said to myself, let go, they will reap evil for this act. After few days one more person appeared in the scene and demanded money, which is land broker who bought the land and gave me. I did not know what to do, I am not person who go for fighting or make enemy with others. I went through this battle about 15days, which took my whole energy. I pleaded with the broker saying I don't have money anymore and I did not keep any dues to you either. But the broker was determined to get the money out of me for no reason. In this condition I called Sis. Kusuma and shared the situation, she gave me the word of encouragement from the bible, that God is with me to fight my right.  She assured her prayers with fasting along with EEM team. Now I want to testify that prayer made it possible. Last week, I sold the land and paid back my loan. The land broker, who gave me so much of trouble, did not turn back and I did not pay any rupee to him.  I glorify God for His mercy and His miracle. I thank Sis. Kusuma and her team for the saintly prayer.
---
I am the Lord that healeth the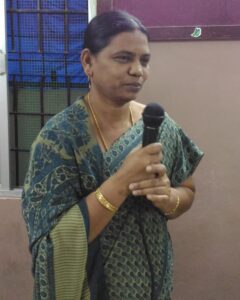 My name is Nakshatra, residing at Erragadda. I regularly attend prayer meetings conducted by Emmanuel Elohim Ministries at St.Jude's School Erragadda. My brother Fr.Jaypaul ministering at warangal, since five months he was suffering from severe pain in his left hand. He was unable lift and not able to do any work properly. I informed Sis. Kusuma to pray for my brother. As a team when they prayed for the healing, my brother was healed completely. All glory to Jesus.
---
Bless the Lord, Oh my soul!
I am Mrs. Jaya Mary from Erragadda, Hyderabad.
I thank and praise God for all the things He has bestowed on me and my family.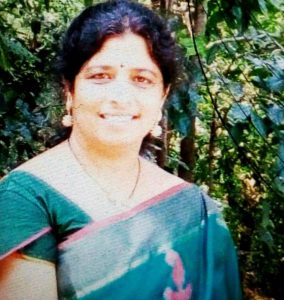 Every Saturday I attend the prayer meeting conducted by Sis. Kusuma, the Foundress of Emmanuel Elohim Ministry. On one Saturday, I heard a testimony from one sister, Mrs. Lalitha, that, her daughter got job in United Kingdom, but before that her daughter attended many interviews and at the last round she was rejected from getting job. Her daughter was in so much depression, and then Mrs. Lalitha started to attend the prayer meeting conducted by Emmanuel Elohim Ministires at Erragadda. After  Sis. Kusuma's prayer, her daughter got another job in short period.
When I heard this testimony, I too felt within my heart that I should share my testimony about my daughter-in-law, Mrs. Sahithya, who was jobless in United States. I believe that our God is an awesome God, because He has heard my prayer and answered them in due time. After the last Saturday's prayer, the Lord granted my daughter-in-law with good job in United States in 3 days. All Glory and Praise to God.
I thank everyone from the bottom of my heart for giving me this opportunity to share my testimony. Praise the Lord!
---
Life and death are on our tongue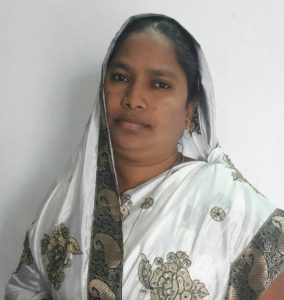 My name is Mrs. Benz Mary from Uppal, Hyderabad. I know Sis. Kusuma from many years. Today with the inspiration of Sis. Kusuma I decided to attend this Prayer Meeting conducted by Emmanuel Elohim Ministries at Erragadda, Hyderabad. While I was on my way to reach this place of prayer I had go undergo so many trials, then I thought is it so necessary to attend this prayer meeting with so many obstacles? But after reaching this place  I realized that how blessed I am to face trials for the kingdom of God because the Word of God preached was directly speaking to my heart through Sis. Kusuma. Word of God consoled me so much I thought of myself so privileged to attend this prayer meeting.
Another incident I want to share with you all. Some time ago when I attended Shekinah Bible Trainging at St. Joseph's Public School, Habsiguda. During that training one day along with my friends, as I was going for lunch, I saw tears rolling down from the eyes of Sis. Kusuma, then one of my friends and myself enquired why she is sad to see the place of Divine Mercy Centre, Habsiguda. When we enquired about her tears, she shared with us the olden days of that centre which was so much blessing to many people. Without her knowledge she prayed for that centre to be used for the glory of God again. And after that within few months, Rev. Fr. Cyril Das was posted in that centre and now it was reconstructed as a beautiful prayer centre for the glory of God. Now I know how powerful our words are. Really we have power on our tongue.
---
God is close to the brokenhearted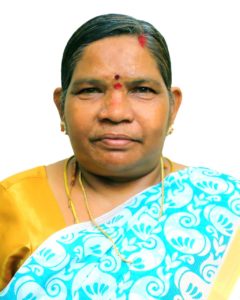 My name is Nakshatra, from Quthbullapur. All of sudden my house owner has increased house rent to Rs. 5000/- and we couldn't pay as we are earning very little and our income is very less. We called Sis. Kusuma for prayer. She prophesied that God is opening a door for you. Miraculously, God in His great mercy, opened a door us. God gave us a house with less rent and we are able to acquire our household needs. All glory to Lord Jesus Christ. Amen.
---
God's word became flesh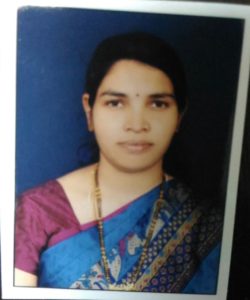 My name is Sreelatha, residing at S.R.Nagar, Hyderabad. I am one of the members of Emmanuel Elohim Ministries. Every Saturday prayer meeting was conducted at St. Jude's Pre Primary School, Erragadda, Hyderabad. The word preached by Sis. Kusuma was so powerful and strengthening my inner man. One day as Akka was preaching, she told that the God who lives in you is able to do impossible things hrough you for His Glory. That whole week I was claiming that promise. I am working in a company as a computer operator and my technical madam due to her busy schedule she couldn't finish her work. So she asked me to prepare technical sheet for a instrument. I do not have any technical knowledge about the instruments. But His word became flesh in me and I prepared technical sheet. My Technical madam was shocked to see that I could prepare the technical sheet without any mistakes though I am a non technical person. All glory belongs to Lord Jesus alone.
---
The God whom we trust is faithful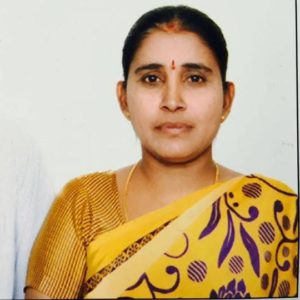 My name is Lalitha residing at Erragadda. My daughter Tharuni went for her studies to USA and after completion of her studies, she had been trying for job. She attended many interviews and everywhere failure. I came to know that Emmanuel Elohim Ministries are conducting prayer meeting every Saturday at St. Jude's Pre Primary School, Erragadda, Hyderabad. I attended prayer meeting with hope in God and informed Sis. Kusuma to pray for my daughter to get a job. She prayed for my daughter with so much burden and she counseled my daughter through whatsapp call and 3 weeks Tharuni got a permanent job. The God whom we trust is faithful God and blessed my daughter with permanent job. All glory belongs to Jesus.
---
TESTIMONY OF MRS. LATHA
Glory to God, the Almighty, who lives from age to age.
My name is Mrs.Latha. We have faced many struggles to get a house loan being sanctioned. Along with my husband, I also felt so worried and tensed. During these days of helpless situation Sis.Kusuma, the Foundress of the "Emmanuel Eloim  Ministries" prayed for us earnestly. We believe that God has heard the cry and the intercession of our beloved Sis.Kusuma. Within the span of 7days the Lord has blessed us with the sanction of the house loan. We offer our grateful heart to God and Special thanks to Sis.Kusuma and her team of the "Emmanuel Eloim Ministries". I am privileged to give the first testimony to the Lord in the "Emmanuel Eloim  Ministries". I am grateful to my Lord who has chosen me to stand as a witness to His mercy and love.
---
My name is Ruffina Josephine  from Bollarum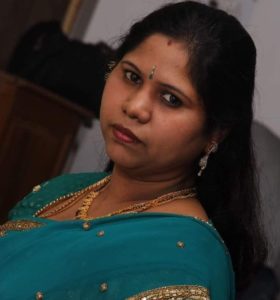 Praise the lord sister, I have seen your program  in the TV and was inspired. You asked me to fast  for 3 days and I started  to do that and first day I saw u on Facebook the next day itself another the TV programme I watched and I asked you to pray for my job as I was desperate to change. On the 3rd day  of fasting and prayer I got a job as a Hindi teacher, even though I don't know  Hindi much yet in demo I did well. God only put words on my mouth. Praise the Lord and thanks for the prayer support.