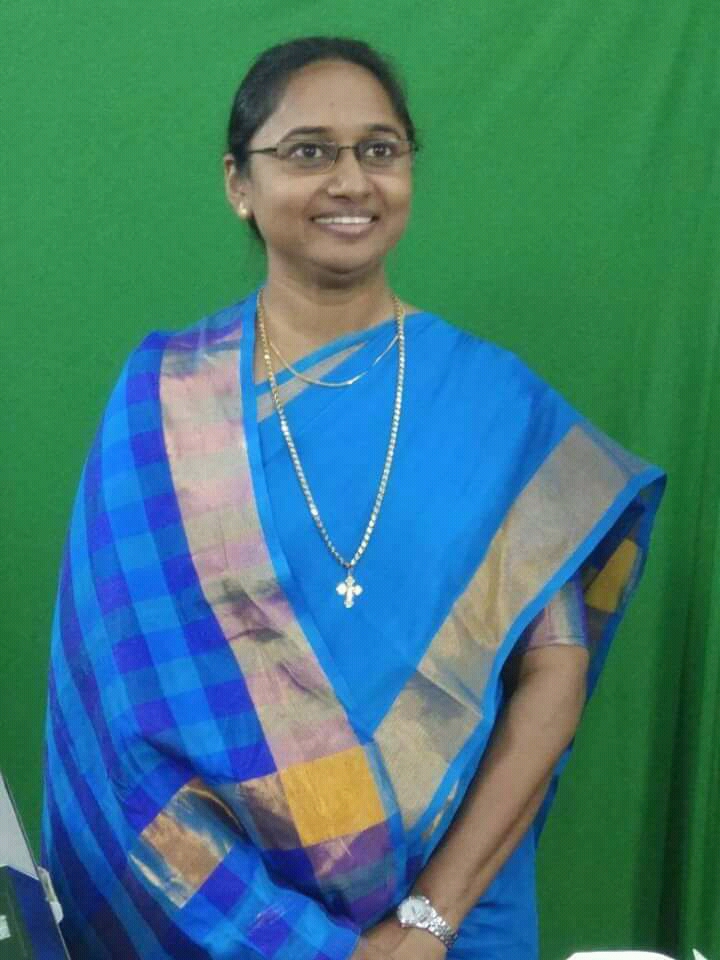 Sis. Kusuma Mekala was born and brought up in the catholic family, to the God fearing parents in Warangal Dt., Telangana, India. The parents were blessed with nine children. they were all brought up in the discipline of the Lord. Her mother would not offer food if the children don't say their daily prayers. Discipline was the most essential part in their life.  Sis. Kusuma did all her education in the Catholic institutions. From her childhood she had deep longing for the Lord Jesus Christ and to serve Him with all her strength. But after completing her BSC nursing, she got government job in the Government College of Nursing, Somajiguda, Hyderabad, India. She was honest and did well in her teaching and was kind to the patients whenever required. Later, she rendered her services at First Referral Health System Project, Koti, Hyderabad as a Nursing Tutor. She used to help the poor patients who used to come from far-off villages in whatever way possible. She prayed for the sick and suffering daily for God's mercy and healing. She was the most liked person in the hospital by doctors, nurses and patients. But deep down in her heart there was no peace and there was a "Little Voice" kept calling her to serve the Master.
            Sis. Kusuma always talks about her grandfather who tasted the love of God and served Him with all of his strength. In those days Mr. Mekala Innareddy willingly served as a catechist and used to ride on the horses and go from village to village and house to house to bring the people to Christ.  People used to fear him so much that they used to be in the Church five minutes before the Holy Mass.  With his passion and love for Christ, he invited the Diocesan Priests to his village and feed them for one full year and gave them 25 acres of land to build the church for God's kingdom.
            The same love continued for Christ from Mr. Mekala Innareddy to his granddaughter Sis. Kusuma. In the year 2000, Sis. Kusuma attended Telugu retreat in Divine Word Centre, Muthangi. God spoke to her through Fr. Christuraj James, SHS from the Bible verses. (Exodus 22:28-29) "You shall not delay to make offerings from the fullness of your harvest and from the outflow of your presses. The firstborn of your sons you shall give to me". This verse stayed on her heart for many days and months. She questioned about her big family of nine children and not even one could serve Christ. As days passed, she longed to serve the Master, by denying her secured government job. May had many things to say about leaving her job. But she kept her eyes on the Lord and obeyed His Voice alone.
            God spoke to Sis. Kusuma through Song of Songs 1:8 "If you do not know, O fairest among women, follow the tracks of the flock, and pasture your kids beside the shepherds' tents." From then onwards frequently she used to visit the Divine Word Centre and help them as a Nurse taking care of the patients who used to attend retreats. Later, she joined the retreat centre as a full time volunteer under the guidance of Rev. Fr. Christuraj James, SHS and  Rev. Fr. Cyril Dass, SVD and rendered her services in different ministries like letter writing, magazine, intercessions, praise and worship, sharing the Word of God, taking care of the HIV infected people at Rakshana Deepam and so on.
            One day the Lord spoke to her about a ministry which will make the people realize that they are not orphans. "God is with us always to the end of the world" (Mt. 28:20)., "Father and mother may forget and forsake their children but Emmanuel God never forsakes us" (Ps. 27:10). She was praying about God's ministry and her call.
            Later Sis. Kusuma attended the retreat at Logos Retreat Centre, Bangalore where God spoke to her directly and gave her the name of the Ministry, "EMMANUEL  ELOHIM"
            The vision of the ministry: TO MAKE THE PEOPLE REALISE THAT EMMANUEL GOD IS WITH US TILL THE END OF THE WORLD. ELOHIM GOD, POWERFUL ONE RECREATES US WITH HIS WORD.